How do you pick the best batting tee?
If you're here reading about batting tees, you're probably a parent of a new kiddo interested in tee ball, or you're a veteran athlete or coach doing research to purchase the best batting tee.
Let's start with what a batting tee is and how they work.
What is a batting tee?
Batting tees are a tool to practice hitting. Like a golf tee or a football kicking stand, a baseball batting tee suspends the baseball or softball on a stand so that the hitter can practice without the need of a pitcher. Using a batting teel allows the hitter to work on the precise mechanics of thier swing, since the ball doesn't move, unlike live pitched balls.
Why is a tee importantfor beginners? For tee ballers a hitting tee is crucial because 99% of four- and five-year-olds cannot hit a moving ball yet, and they may be anxious about having a ball thrown at them. A batting tee allows beginners to learn where to stand, how to hold the bat, and how to swing the bat.
Hitters of every skill level from beginners to pros need a training aid like a batting tee to train their swing in the entire strike zone. A batting tee does this.
Batting Tees are Not Just for Tee Ball
As you climb up the ranks in baseball and softball, tee ball gives way to coach pitch and then eventually players are doing it all. But just because kids are pitching to hitters does not mean the batting tee becomes useless. You still need it for many reasons. One practical reason is because coach can't throw three hundred pitches every practice. His or her arm will die. So, the tee lets teams have both live pitching and tee training, so everyone gets lots of hitting reps.
Professional major leaguers practice with a batting tee all the time. They may do it to work on a specific pitch location, or they may use the tee along with a training bat to create a more challenging hitting drill.
Either way, a heavy duty, durable batting tee will be the most common equipment you use.
You can train with a hitting tee anywhere, by yourself or with a friend, and there are hundreds of baseball/softball hitting drills that can be done for everyone from beginner to big leaguer.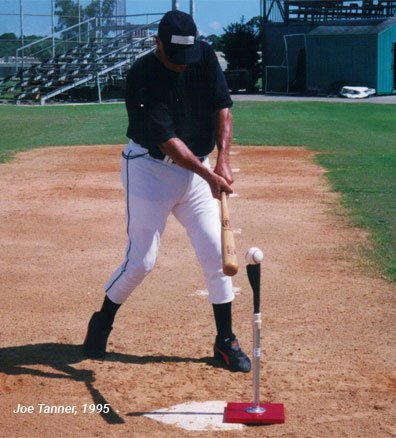 What Is A Tanner Tee?
Joe Tanner was a great man, a true baseball guy who played and coached over a span of 50 years. In the late eighties, he was a hitting coach with the White Sox and decided that the batting tees they had were not up to par. He went to work in his garage and developed a batting tee made of metal sections rather than plastic that woulnd't break after one bad hit.
Since those early days in the garage, Joe patented his batting tee and founded the company Joe H. Tanner Basbeall Products, and for the next 30 years he would build hundreds of thousands of premium, durable batting tees made for professionals but available to every hitter in the world. His mission was to make the next .400 hitter, and Joe believed anyone could be a baseball star with the right tools and coaching.
Today, you won't find a genuine Tanner tee in a big box store. You'll find us at your local sporting goods store like a Play It Again, a hitting facility, or on our website. Each Tanner Tee is assembled in Sarasota, FL, and each one is built by a team of experts who learned from Joe how to produce the most durable and effective batting tee on the planet.
How do you Practice with a Batting Tee?
Before going any further, let's take a quick step back to note that anytime we say baseball, we also mean softball. Batting tees are used at every level of play, for both baseball and softball. Women, men, boys, girls, young and even veteran hitters find both enjoyment and skill improvement by training with a hitting tee. They are the best training aid for baseball.
Throughout his years as a career professional player and hitting coach, Joe Tanner would say that "batting tee training increases both strength of hands and bat speed, and improves the character of the driven baseball off the bat."
There are many uses for batting tees, here are a few:
Warming up before batting practice
Working on launch angles
Teaching tee ballers how to hit a baseball
Hitting drills to improve hand strength and bat speed
Pitch locations at various heights and locations in the strike zone
Batting Practice with a Tee is Easy But do it RIGHT!
Good hitters know how to do tee work. They move the tee from inside to outside, and they raise the height up and down to make more challenging pitch locations. Don't get stuck hitting the pitch right down the middle over and over. Keep your stance consistent while adjusting the bat path and contact point.
Above we show an amazing Tanner product, the Hitting Deck. It's one of the best for teaching basic hitting concepts that never change. It's a training hitting mat that takes the guess work out of tee work. With the Hitting Deck, you can't do tee work wrong.
There are many ways to do tee work. One example is to start by placing your Tanner tee on the Middle contact point, just out in front of the leading edge of home plate. Don't be surprised that the middle contact point is actually a little in front of of the plate rather than right in the middle of it. Once you have the tee set over the middle contact graphic on the Hitting Deck, just get into a strong, athletic stance. The front foot is resting (or lands) in the colored section of the mat. If you put the tee on the icon and your feet in the guide, your starting positoin is correct.
Take a few swings at the middle contact point, then move the tee to the Inside contact position.
Keep your feet/stance the same.Take some more cuts, then raise the tee and repeat. Then lower. This is a basic tee routine.
Types Of Batting Tee Bases
Tanner Tee the Original
Your batting tee should have three things: the upright adjustable poles should be metal not plastic or pvc, the sections should adjust and hold themselves in place without twists, locks or pins, and the top should be a flexible material that won't be felt by the bat at contact. We build four batting tee models.
Tanner Tee the Original is our most popular and still best-selling batting tee. It has over 10,000 five-star reviews from satisfied customers. The base is lightweight and easy to carry around the field or in your bat bag, even by a six-year-old. Some folks find it on the lighter side and like to put a weight on it or they check out our next tee in the Tanner product lineup.
The Tanner Pro

The Tanner Pro model is weighted so it gives a more stable hitting experience than the original model, especially on those miss hits by new hitters. Any hitting coach or tee ball coach will tell you that the batting tee becomes a pinata for much of its life. Not to worry, the Pro model, just like the Original, is durable enough to withstand thousands of swings, even the bad ones, and it gives a little more of a stable platform with a reinforced steel stem. Plus, the base design includes a cutout "T" in the base which doubles as a convenient handle to carry your Tanner Pro tee.
The Tanner Heavy is Incredible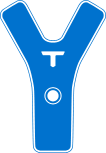 The third model here is the Tanner Heavy, some folks call it the Claw or the Y base. Its 10 lb. tripod base that provides the most rock-solid footing of any batting tee, and the elongated shape ensures the ball stays upright and secure even on uneven surfaces, fluffy grass, or a portable throw-down home plate. The Tanner Heavy also features a reinforced steel stem and is loved hitters of all skills from pros to beginners.